Answer these questions first!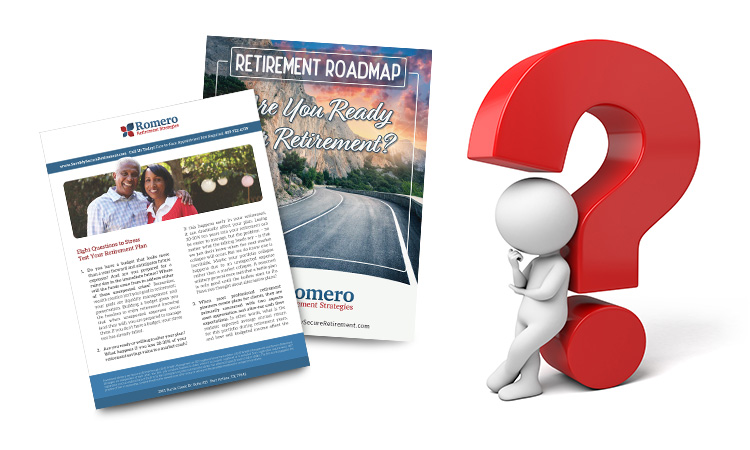 Do you have a plan? Does your plan create a lifetime sustainable income? Is your plan stress-tested against the potential of you outliving your money? Does your plan integrate Social Security, Medicare health insurance, and the possibility of a longer-than-expected lifespan? Does your plan consider future income tax rates, which could be significantly higher in your retirement years? Have you thought about a Roth conversion?
Lastly, has your current financial advisor asked you any or all of these questions?
Eight Questions to Stress Test Your Retirement Plan
Bonus Download: Retirement Roadmap Guide
Even if you plan to retire tomorrow, it's not too late to ask a financial advisor these questions and put together a serious, workable plan. Let Romero Retirement Strategies be that advisor to help you.
"Get the Peace of Mind that Comes with Financial Security"
Investment advisory services are offered through IAMS Wealth Management, an SEC registered investment advisor. IAMS Wealth Management and Romero Retirement Strategies are independent of each other. The firm only conducts business in states where it is properly registered or is excluded from registration requirements. SEC registration is not an endorsement of the firm by the Commission and does not mean the advisor has achieved a specific level of skill or ability. The firm is not engaged in the practice of law or accounting. Content should not be viewed as an offer to buy or sell any of the securities mentioned or as legal or tax advice.